Super Junior M 1st Album 迷(Me) Korean Version CD
Cover will be shipped randomly.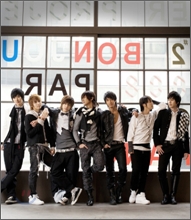 Condition : BRAND NEW/ SEALED
It will count on

HANTEO CHART

RIHGT AWAY.
We are based in Korea and get albums from the biggest album company .
1. 迷 (Me)
2. U
3. 至少還有?
4. ?是我的奇迹 (Miracle)
5. Love Song
6. 我抱着我 (In My Arms)
7. Don`T Don
8. Marry U
9. 我的二分之一 (Full Of Happiness)
10. 渴望 (A Man In Love)
11. 這一秒 (The Moment)
12. The One
13. 迷 (Me) - Kor Ver.
14. 至少還有? - Kor Ver. (당신이기에)
15. Love Song - Kor Ver. (아이니아이니)
It will count on HANTEO CHART RIHGT AWAY.
Customers who bought this product also bought: