[Tabloid] aespa 3rd Mini Album - MY WORLD CD + Poster
Pre - Order
Release Date : MAY - 9th - 2023
**** FREE Folded Poster Event ****
The folded poster is free if you make an order during pre-order.
Please choose Folded Poster or Poster in a poster tube to receive posters. 
Folded poster will not affect on total weight or cost, but poster tube will.
Please choose only 1 poster tube to receive them unfoldedly.

Product Details
- Tabloid Cover : 300 x 420mm
- Sheets of Tabloid : 12p
- CD
- Photocard : Random 1 out of 4
- Poster : Random 1 out of 2 / 1st Press Only
- MAY - 9th - 2023
- The outer case(sleeve) is to Protect goods. (Minor scratches and discoloration will not be the case for change or return.)
DISK(CD) 1.
01. Welcome To MY World (Feat. nævis)
02. Spicy
03. Salty & Sweet
04. Thirsty
05. I'm Unhappy
06. 'Til We Meet Again
Detail View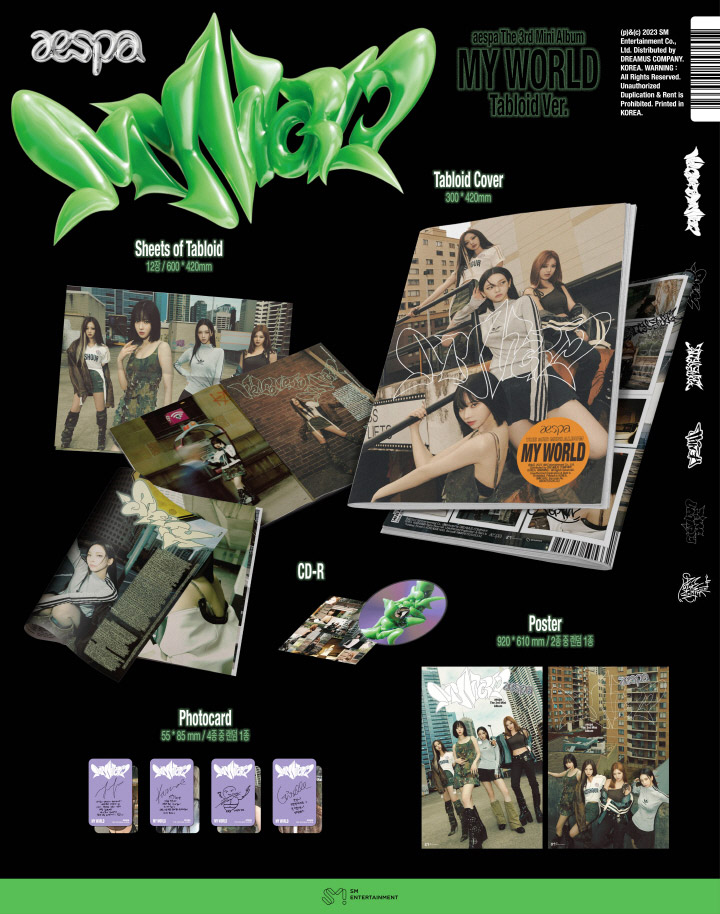 23-05-09/SMK1693/po-L/타블로이드
Customers who bought this product also bought: